ŠINDELÁŘ SPEDITION s.r.o. – INTERNATIONAL TRANSPORT AND LOGISTICS
ŠINDELÁŘ SPEDITION s.r.o. launched its business under the name Václav Šindelář at the beginning of 1996. Throughout its existence it has provided services particularly in the field of both inland and international road freight transport.
The company currently has:
250 employees
160 trucks (EURO 5, EURO EEV)
180 semi-trailers
15 tanker trailers
The company has trucks of the makes MAN, DAF, VOLVO and MERCEDES. Merchandise is transported particularly in refrigerated semi-trailers (80-110 m3).
The transport is controlled by the expierenced professionals who are in permanent contact with the drivers of all vehicles through cell phones and a satellite vehicle tracking system. Quality services are secured by using a transport software system and a satellite reference system of round-the-clock vehicle position tracking. Our company also pays great attention to the protection of transported consignments against theft by means of alarms included in the vehicle monitoring system that uses sensors indicating the opening of the cargo area, including the monitoring of the consignment carriage temperature.
In order to reduce the costs of vehicle repairs and the lease of the parking area, we built our own premises in 2001. The company used to have its plant in Sedlec 75 where it had a truck service station, parking lot and administrative building. Owing to the company growth, in 2006 we built new premises with the area of 4 hectares (9.88 acres) in Netolice at the address Vodňanská 533 where we have own warehouses, administrative building, filling station and service station.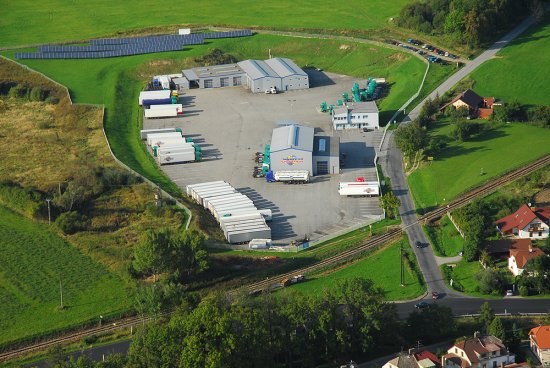 Since we realize the increasing requirements of our customers for the quality of provided services, we decided to introduce the Quality Policy in 2011 with effect from 1 September 2011 and comply with the requirements of the standard ČSN EN ISO 9001:2009.
The company is aware of its full liability for the carried cargo and for any damage incurred during the carriage under the international convention CMR so we have arranged a carrier liability insurance that also covers a risk of theft of the carried cargo. The insured sum is arranged for Europe and amounts to 5 million EUR.